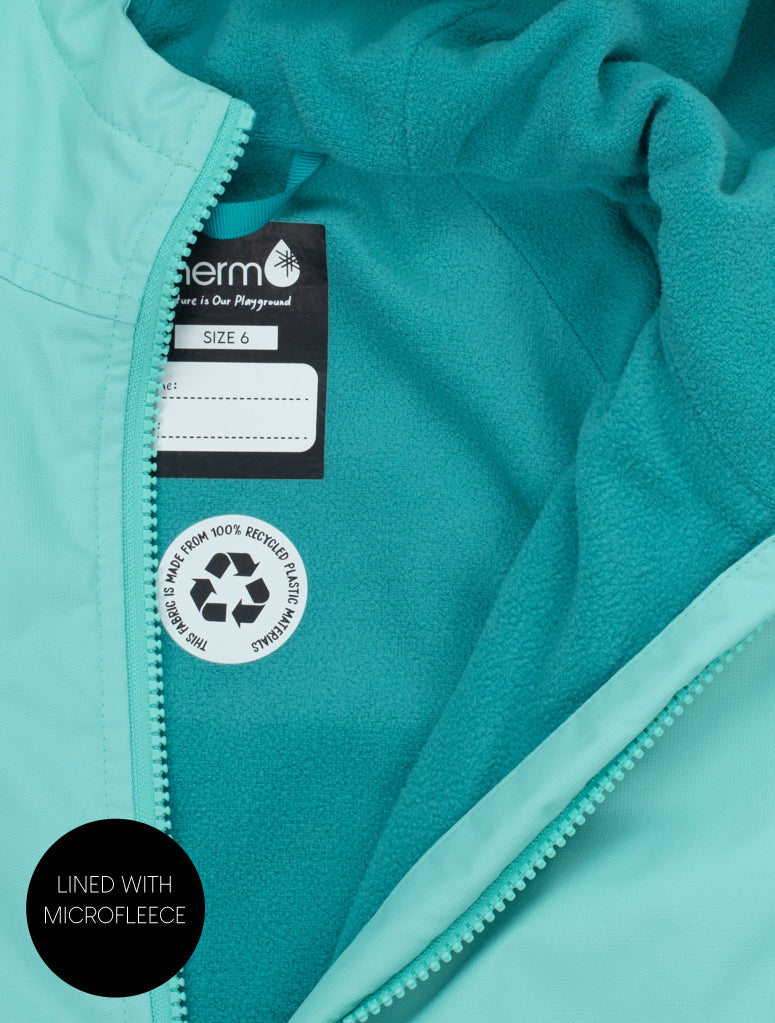 SplashMagic Storm Jacket - Aqua Sky | Waterproof Windproof Eco
Size chart
The measurements below show the 'perfect' size for the garments. If your child is in between these specified measurements (primarily for height) we recommend to go with the next size up to allow for growth. 
As our products are outerwear, they are a generous fit across the body - this will allow for 1-3 layers and larger body types, and all of our waistbands are elasticated for easy fitting. The most important measurement is height as this determines the sleeve/pant length.
Scroll down for diagrams on how to measure your child, and at the bottom of the page we have a link to our actual garment measurements if you would like to compare to items at home.
Or feel free to email us at hello@therm.co.nz and we would be happy to offer advice!
Regular price
$94.99
/
Tax included.
Shipping
calculated at checkout.
$5 NZ shipping or Free on orders over $75
Buy now, pay later with Laybuy or Afterpay
Add Splash Pants for $19.99 (scroll down to add on)
In stock, ready to ship

Inventory on the way
Lining: 100% Recycled rPET Microfleece
When the raincoat gets wet, a secret pattern is revealed! See the SplashMagic pattern appear in the rain then disappear again when dry. Fun for toddler and big kids alike! Providing full protection in both wind and rain, with taped seams to prevent leaks and lined with soft and cosy microfleece for warmth and comfort.
Non-Toxic, free from PFAs, PFCs, Phthalates and Lead
Eco-Friendly: 100% Recycled rPET fabric - made from used plastic products such as water bottles.
Taped seams to prevent leaks
SplashMagic pattern appears when the fabric gets wet, then returns to the plain colour when dry.
Lightweight and packable.
Extra length at the back for added rain and wind protection.
Extended collar with soft zipper guard to protect the neck.
Elasticated cuffs with thumbholes to cover hands in rain and wind.
Reflective features front and back for visibility in low light.
Chest zipper pocket for stashing stuff
Fleece lined pockets for extra cosy hands when it's chilly outside
Machine washable and dryer safe
Unisex style and fit
Outer: 100% Recycled rPET Fabric - made from recycled water bottles
Lining: 100% Recycled rPET Microfleece Fabric - made from recycled water bottles
Packaged in Recycled Ocean Plastic polybag
Shipped in Recycled Ocean Plastic mailer
Machine washable and dryer safe!
Just throw your Therm garment in the wash with your normal load - we recommend a warm wash with liquid detergent, not powder. 
Plus all of our garments love the dryer! In fact the dryer is needed for the waterproof coating. If your Therm garment doesn't seem as waterproof as it was, (or the SplashMagic pattern isn't appearing well) just dampen it again and dry it fully in a medium to hot dryer. 
IMPORTANT: Don't forget to zip up all zippers before washing and drying!
Orders are shipped same business day if received by 1pm, and we ship overnight to NZ towns/centres. Free on orders over $75
Australia: $25 flat rate with DHL 2-3 days
Read more: Shipping
30 day returns/exchanges + 12 month warranty. And we cover the return postage!
Read more: Exchanges and Returns